No other cyberthreat is as common and costly as a phishing attack. But despite all the warnings about phishing scams and emails, why are so many people still being fooled into opening phishing emails and clicking on compromised links? This is because cybercriminals are becoming more creative and are always looking for ways to trick even trained individuals into opening malicious emails.
What is phishing?
Phishing is a cyberattack where hackers use email as a weapon. Cybercriminals will do their best to make emails look legitimate to fool the recipient into opening them. A phishing email contains a link that will take the recipient to a fake site that will ask for his or her personal and financial information. It could contain attachments that will download malware into a recipient's computer when clicked. Such emails often come with intriguing subject lines that entice users to open them. Here are some of the most widely used phishing subject lines.
Most clicked social media subject lines in Q1 2020
Twitter
Someone sent you a direct message
Facebook
Your primary email has changed
Someone mentioned you
You were tagged in a photo
LinkedIn
Please add me to your network
Your password has been reset
You appeared in new searches
Most clicked email subjects in Q1 2020
You have been added to Microsoft Teams
Changes in your PTO policies
Password check required
Scheduled server maintenance
CDC health alert: coronavirus outbreak
Testing your company's emergency notification system
Deactivation of your email in progress
Revised vacation and sick leave policy
Important message from human resources
Someone sent you a Valentine's ecard
Most clicked email subjects in Q2 2020
Vacation leave policy update
Password check needed now
Business reopening schedule
COVID-19 stimulus pack
Coronavirus vaccine available
List of rescheduled meetings because of coronavirus
Breaking news: COVID-19 now airborne
Confidential data on coronavirus
FedEx tracking
Your meeting will start soon
Why are phishing scams successful?
According to Osterman Research, phishing attacks are successful because of these factors.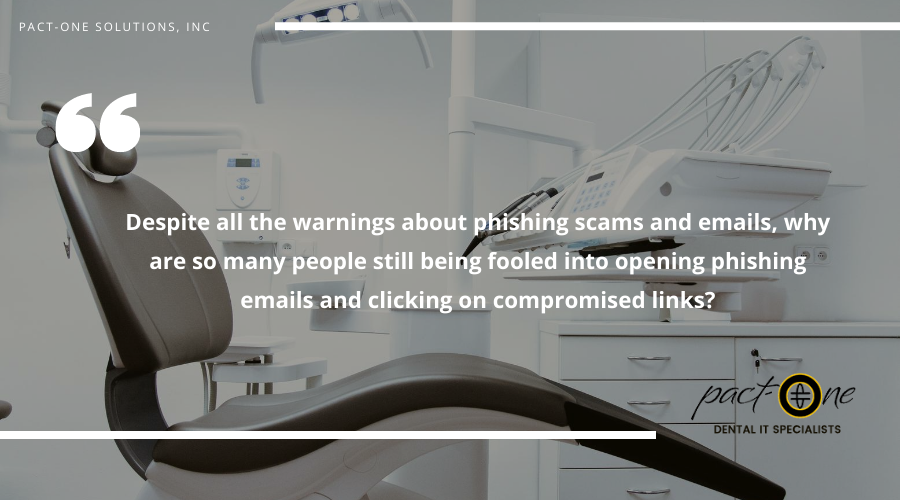 1. Your staff lacks the appropriate security knowledge
Most users lack the training to identify phishing scams and often fall prey by downloading malicious attachments or visiting compromised websites.
2. Dental offices are not addressing the problem properly
Further complicating the problem are businesses that are not addressing phishing attacks properly. Many dental clinics lack cybersecurity measures like email filtering, firewalls, and backup and recovery policies to handle a phishing attack.
3. Hackers have easy access to low-cost phishing tools
Phishing tools are widely available to help amateurs with little IT knowledge become ransomware authors and phishers. Nowadays, one doesn't have to be a skilled hacker to create a phishing site, almost anyone can do it using a phishing kit.
4. Hackers are shifting their focus
Because the dark web is saturated with so much stolen information, the price of stolen data is dropping. Hackers aren't getting as much as they used to for stolen data, and so have turned to phishing campaigns to trick people into transferring large amounts of money into their own accounts.
Partner with a trusted MSP
The best way to protect your dental clinic from phishing attacks is by partnering with a trusted managed IT services provider like Pact-One. We specialize in dental IT designed to provide your practice with multiple layers of security to ensure phishing scams and emails never reach your inbox.
In addition, our IT specialists will train you in cybersecurity best practices, allowing you to identify and avoid phishing scams. If you want to learn more about how you can optimize your dental clinic's cybersecurity solutions, download this free eBook today.
Be the Dental Practice with Worry-Free IT
Don't spend one more day worrying about IT