IT is one of the most crucial aspects of running a business. However, not all business owners are tech-savvy or have the budget to maintain in-house IT. This is where outsourcing IT support and services comes into play. While outsourced IT services may seem more expensive, have you ever considered the hidden costs of having an in-house IT department?  
In this blog, we'll dive into the real cost of IT for your business and compare the expenses of in-house IT vs. outsourced IT support and services.
Real Costs of IT for Your Business: Salaries and Benefits
One of the most evident costs of in-house IT is paying salaries and benefits. Hiring IT professionals is not cheap, and finding the right talent can be a daunting task, especially in the current employment market. Additionally, offering employee benefits such as insurance, vacation time, and sick leave benefits can increase the cost of in-house IT even more – upwards of 29.4% more. Outsourcing IT services, on the other hand, allows you to pay a fixed monthly fee without worrying about salaries, benefits, or extra costs.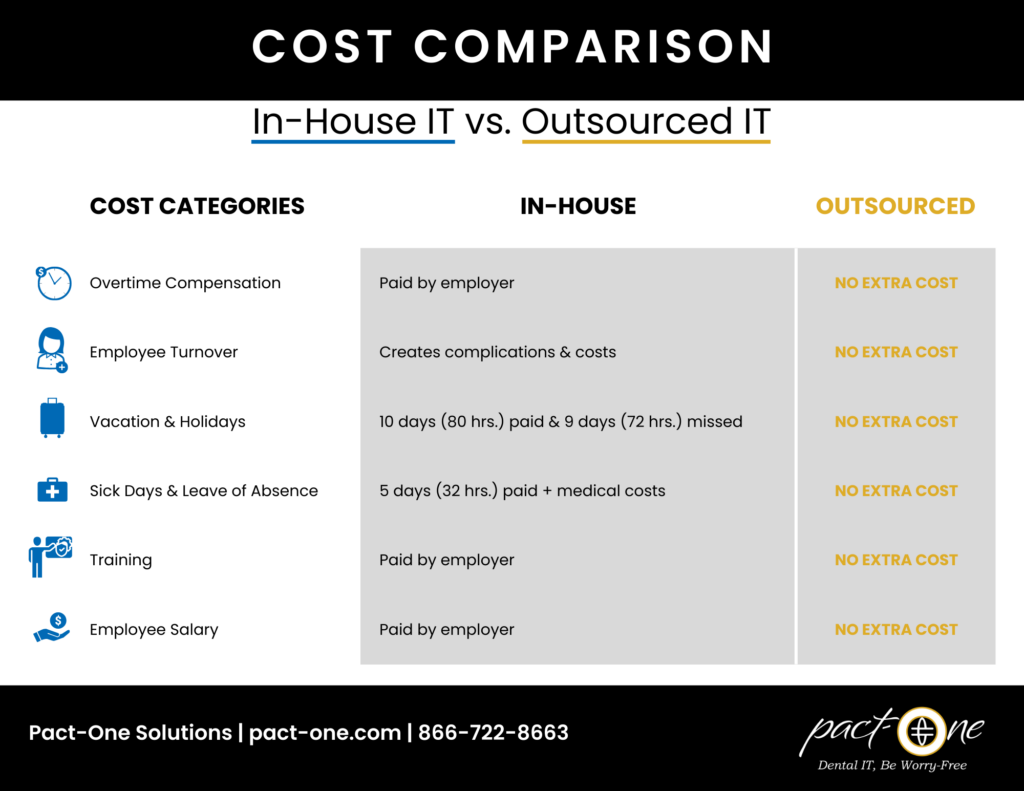 In-House IT Salary and Benefits
When considering hiring an employee for in-house IT support and services, it's important to consider the full cost of an adequate IT professional. Your business should hire an IT professional with experience in installing, configuring, maintaining, and supporting your organization's computer network and systems – either a Computer Network Support Specialists or a Network and Computer Systems Administrator.  
The annual salary for this type of individual can range anywhere from $68,050 to $90,520 according to the U.S. Bureau of Labor Statistic.
Outsourced IT Services
With outsourced IT services you receive a full team of IT professionals ranging from Computer Network Support Specialists to Network and Computer Systems Administrators through a fixed monthly fee. The fixed monthly fee is typically generated based on the number of computers, users, etc. For example, the average price range for a 20-computer agreement could range between $800 and $2,500 per month depending upon options.
Real Costs of IT for Your Business: Training and Development
Investing in employee training and development is a vital part of keeping your IT team up-to-date with the latest trends in technology. However, it can be costly and time-consuming. With outsourced IT services, you can have access to a team of experts who are already trained and up-to-date with the latest technology trends. They have the necessary skills and knowledge to handle any IT issues that may arise and keep your business running smoothly.
In-House IT Expertise
Typically, junior IT technicians have a basic knowledge of IT systems and processes but lack experience with industry specific hardware, software, and cybersecurity. This could require additional training and development costs to ensure they're up to par with the demands of present technology.
Outsourced IT Expertise
Many businesses move to outsourced IT due to the technical expertise needed as technology continues to become more complex. Outsourcing IT to a managed service provider (MSP), such as Pact-One Solutions, provides your business with access to deep expertise in cybersecurity, industry compliance (such as HIPAA compliance), and industry specific hardware and software (such as those in the dental industry – intraoral cameras, imaging software, and more).
Real Costs of IT for Your Business: Network Management
A critical aspect of IT that can't be overlooked is network management. Network management requires constant monitoring, troubleshooting, and updating to ensure the network's security, performance, and reliability. This adds an extra layer of complexity and cost, especially when considering the financial investment in network management tools and the time required for staff to manage the network. The approach to network management is vastly different between in-house IT and outsourced IT.
In-House IT Approach to Network Management
For in-house IT, network management often takes a reactive approach. When network issues arise, the team has to identify the problem, find a solution, and implement it – all of which eats up valuable time and resources. The costs associated with this approach can be significant, encompassing the time spent by the IT team, potential downtime for the business, and any necessary hardware or software fixes or replacements.
Outsourced IT Approach to Network Management
Conversely, outsourced IT takes a proactive approach. With dedicated network experts and sophisticated network management tools, the outsourced team continually monitors the network, identifies potential issues before they become problems, and implements preventive measures. This approach leads to better network stability, higher quality of network security, and fewer unexpected costs.
Real Costs of IT for Your Business: Downtime and Data Loss
Downtime and data loss are critical challenges that can severely impact the functioning and profitability of a business. In-house IT personnel, while skilled, are often constrained by the traditional 9-to-5 work schedule. Consequently, issues that arise outside these hours can lead to extended periods of downtime, threatening productivity and potentially leading to significant data loss.  
This scenario underscores the urgency and importance of around-the-clock technical support, a feature provided by outsourced IT services. These external teams offer unlimited IT support, meaning they can respond promptly to any issues – minimizing downtime and mitigating the risks of data loss. Therefore, while in-house teams indeed bring their own advantages, when it comes to managing downtime and preventing data loss, outsourced IT services often have the upper hand.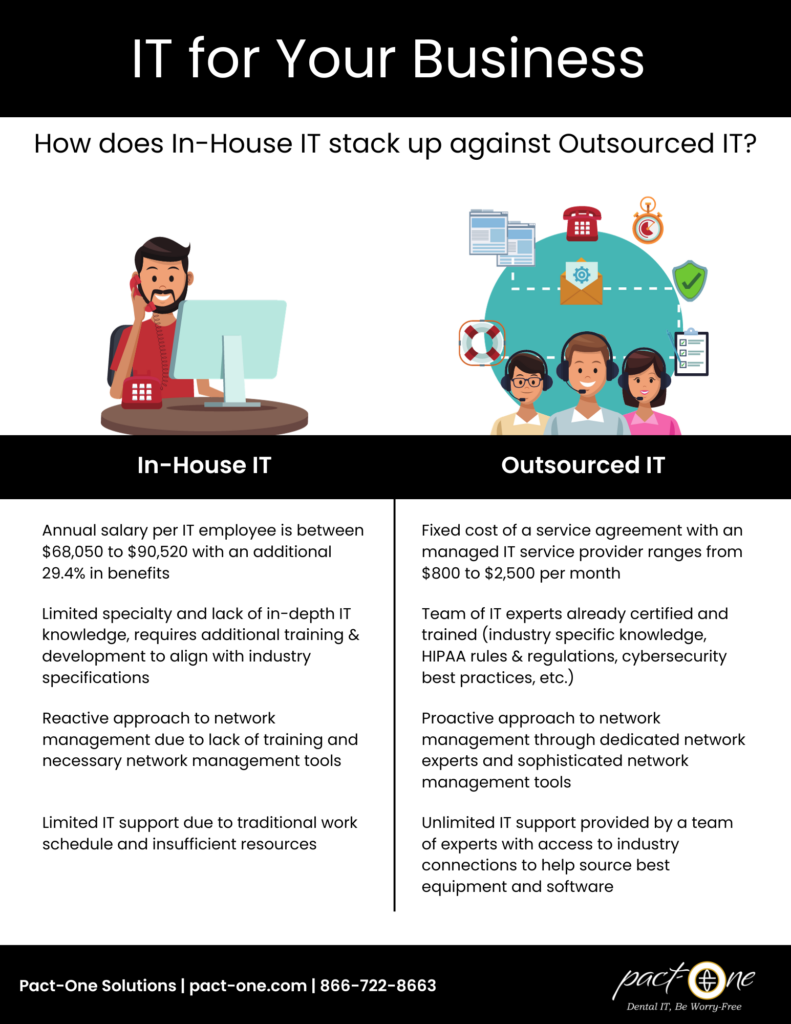 Conclusion
The decision between in-house IT and outsourced IT is multifaceted, involving considerations of cost, expertise, network management, and the potential for downtime and data loss. While in-house services may seem more straightforward, the real costs can accumulate quickly from salaries, training, and unpredictable network issues. Conversely, outsourced IT often provides a cost-efficient solution with access to a team of experts, proactive network management, and round-the-clock IT support. However, each business is unique, and the choice depends on your specific requirements, industry, and budget constraints. Ultimately, the key is to ensure that your IT services, whether in-house or outsourced, effectively support your business's operations, growth, and success.
Are you a dental practice in Arizona, California, Nevada, Oregon, or Washington needing dental IT support and services? Look no further! Pact-One is here to help. Contact us today for a complimentary consultation.