The digital age has made it easier than ever to keep track of patient records, manage appointments, and communicate with clients. However, this increased reliance on technology also means that the threat of a cyber-attack is more real than ever before.  
From ransomware attacks to data breaches, dental practices need to be aware of the potential dangers lurking in cyberspace so they can take steps to protect their sensitive information and stay compliant with HIPAA regulations.  
To help you better understand the risks your dental practice faces from cybersecurity threats, here are 10 must-know statistics about network security for small businesses like yours.
Phishing attacks account for 90% of data breaches.
Small businesses are not immune to phishing attacks, with 43% of cyber-attacks targeting small businesses.
Despite being targeted more often, only 14% of small businesses are prepared to defend themselves against cyber-attacks.
Ransomware attacks are expected to occur every 2 seconds by 2031, up from every 11 seconds in 2021.
Ransomware attacks cost small businesses an average of $150,000 per incident.
60% of small businesses that suffer a cyber-attack go out of business within six months.
Over 41 million records were exposed due to data breaches in March 2023.
In 2022, the healthcare industry suffered 849 cyber incidents, 571 with confirmed data disclosure placing the industry at #8 for total incidents and #3 for data breaches.
82%of cyber-attacks in 2022 were caused by human error, such as weak passwords or opening suspicious emails.
1.7 million individuals were affected by a data breach of a DSO that was affiliated with more than 320 dental practices across 20 states.
Multilayered Security Solutions to Protect Your Dental Practice
Dental practices are at an increasing risk of cyber threats. A comprehensive security solution is necessary to safeguard sensitive data. This is where managed service providers come in. They offer multilayered security solutions to keep businesses safe from data breaches and other cyber threats.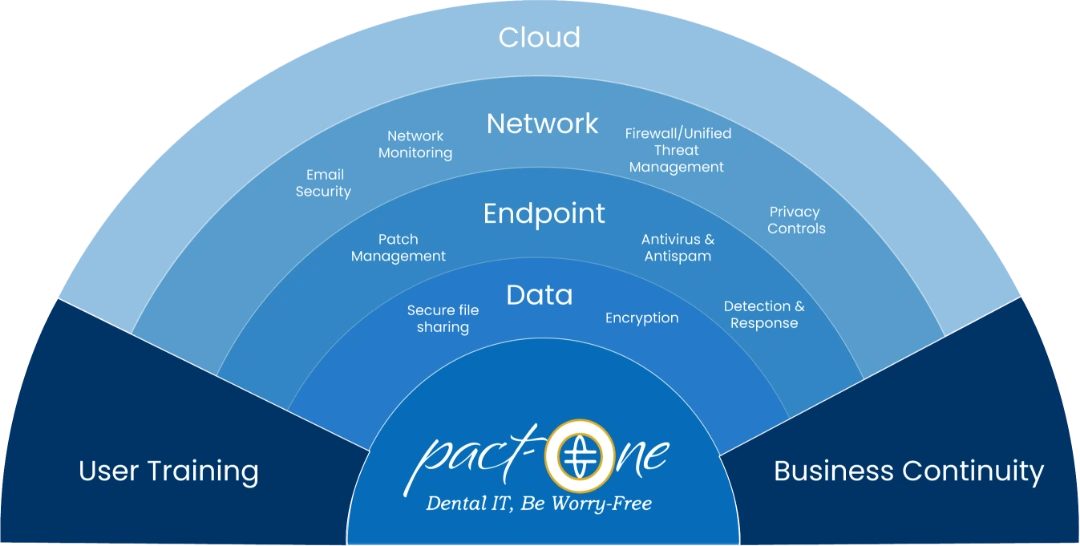 The different security layers provided by managed service providers, such as Pact-One Solutions, include intrusion detection systems, firewalls, and encryption. Intrusion detection systems continuously monitor network activity and alert administrators of any suspicious behavior. Firewalls act as a barrier to unauthorized access from the outside world. Encryption scrambles data so that it can only be read by authorized users with appropriate decryption keys. 
These security measures create an effective defense against cyber threats. They help your dental practice maintain HIPAA compliance and avoid costly fines or reputational damage due to data breaches. With these multilayered security solutions, you can help your practice operate smoothly and securely without fear of interruption.
Conclusion
It's clear that cyber threats are a growing concern for all businesses, especially dental offices. In order to protect your practice and remain compliant with HIPAA regulations, it is essential to stay informed about the latest cybersecurity statistics and invest in proper network security solutions like managed service providers. By doing so, you can ensure that your patients' sensitive data remains secure from potential attackers. With these multilayered security systems in place, you can rest assured knowing your dental office will be safe from any malicious actors or costly fines due to noncompliance with HIPAA standards.
Are you a dental professional in Arizona, California, Nevada, Oregon, or Washington seeking a more secure network for your dental practice? Look no further! Pact-One is here to help you keep your dental practice and patient data secure with multilayered network security solutions that are tailored to your practice. Get started today with a complimentary consultation. 
Sources:
Verizon 2022 Data Breach Investigations Report
CNBC
Cybersecurity Ventures
Datto
National Cyber Security Alliance
Cyber Magazine
The HIPAA Journal